Aloe vera is a medicinal plant that can offer many health benefits, like healing wounds and burns, relieving constipation and preventing cavities. 
Aloe vera can also be used as a part of many beauty regimens, mainly for the hair and skin, It can be used to remove makeup, to prevent wrinkles and stimulate hair growth. 
Scientifically known as Aloe barbadensis, aloe vera can be purchased at natural health stores, pharmacies and grocery stores. This plant can also be easily cultivated at home, as it does not require any specific care.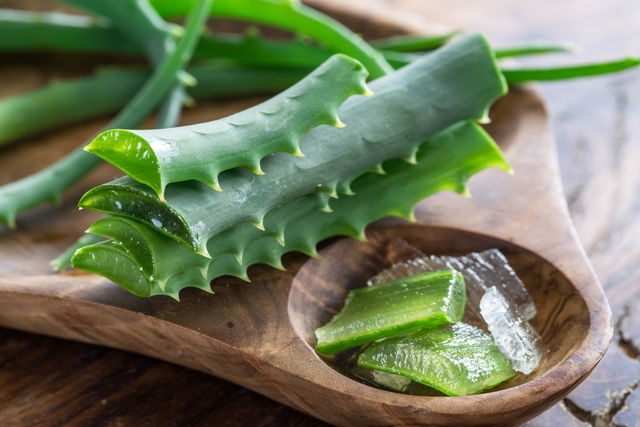 Health benefits
The main health benefits of aloe vera are: 
1. Stimulate hair growth
Aloe vera contains enzymes that help to remove dead skin cells from the scalp. It is also a great natural moisturization and can provide minerals to strengthen hair fibers. This allows for hair to growth faster and stronger. 
Check out foods for hair growth that you can incorporate into your diet.
How to use: Mix two egg whites and two tablespoons of aloe vera gel in a bowl and mix well. Apply the mix to your scalp, being sure your hair roots are fully covered. Wait 5 minutes then rinse with cold water and shampoo. 
2. Eliminate dandruff
Dandruff is made up of dead skin cells, and aloe vera contains enzymes that can break up these plaques.
How to use: Mix 2 tablespoons of aloe vera gel with 1 tablespoon of honey and 2 tablespoons of natural yogurt. Apply this mixture to the roots of your hair and massage into the scalp for about 15 minutes. Wait 30 minutes, then rinse your hair with shampoo. You should perform this treatment once per week. 
Learn more about other ways to get rid of dandruff.
3. Prevent hair loss 
Aloe vera helps with collagen production, and can therefore anchor hair strands into the scalp more effectively to prevent losses. This medicinal plant also contains minerals and water, which can strengthen hair strands and make it more resistant to breaks. Learn more about what causes hair loss and what to do.
How to use: Mix 2 tablespoons of aloe vera gel with 2 tablespoons of coconut oil and apply to your hair. Let it sit for 10 to 15 minutes, then rinse with cold water and shampoo. Repeat this process once per week.
4. Remove make-up 
Aloe vera can be used to remove makeup from your face, as it does not contain chemical substances. It can also promote skin hydration and relieve irritation caused by chemicals in make-up products. 
How to use: Place a bit of aloe vera gel on a cotton ball and rub into the face. Then rinse your skin with warm water and mild soap. 
5. Manage wrinkles
Aloe vera stimulates collagen production in the skin, which is important for maintaining skin elasticity and firmness. When used regularly, aloe vera can reduce wrinkles and the appearance of facial lines. 
How to use: Apply aloe vera to your face with your finger tips, concentrating on areas with wrinkles or frown lines. Gently massage these areas and then allow the aloe vera to act for about 5 to 10 minutes. Then rinse off the aloe vera with cold water and mild soap. 
6. Exfoliate the skin
Aloe vera can be used as a base for an exfoliator. In addition to hydrating the skin, it can provide oxygen, which is important for the deepest layers of the skin. 
How to use: Mix 2 tablespoons of aloe vera with 1 tablespoon of sugar or sodium bicarbonate. Rub this mixture on your skin or other areas of dry skin on your body (like the elbows or knees). Rinse with water and mild soap, and repeat 2 to 3 times per week. 
7. Relieve skin irritation
Applying aloe vera on the skin quickly relieve itching and burning from prolonged sun exposure. This plant can also be used to treat psoriasis, dermatitis, and oral mucositis. It can also be indicated to relieve nippled that are cracked from breastfeeding, as well as regenerate skin and reduce inflammation. 
How to use: Cut an aloe vera leaf lengthwise, remove the gel, and apply to the intended area of the skin three times per day. For cracked nipples, apply the aloe vera gel to the affected areas after breastfeeding. 
8. Combat infections
Aloe vera applied to the skin in cream or gel form can help to heal wounds faster. This can prevent the development of infections, as it is rich in polyphenols. Polyphenols are antioxidant compounds with antiviral, anti-inflammatory and antibacterial properties. 
How to use: Cute a part of the aloe vera leaf and apply the gel to the affected area three times per day. 
9. Prevent cavities
Aloe vera can be used as a mouthwash to reduce bacterial plaques that form on teeth. These plaques are the main cause of cavities, tartar and gingivitis. 
Aloe vera mouth wash can also help to relieve oral wounds, canker sores and tongue burns.
How to use: Mix the aloe vera in a cup of water and stir until completely dissolved. Add a pinch of sodium bicarbonate and gargle in your mouth 2 to 3 times per day. 
10. Relieve constipation
Aloe vera contains aloin and barbaloin, which are substances present in the outer leaf. They contain laxative properties and increase the amount of fluid in the intestines. This can help to stimulate bowel movements and make stool elimination easier. 
Because it contains prebiotic action, this plant can also stimulate the growth of beneficial but bacteria, which can help to keep intestinal flora balanced and improve their overall functioning. 
How to use: To relieve constipation, you can make aloe vera juice. Remove the aloe vera gel and mix with water in a ratio of 100 g of gel to 1 liter of water. If necessary, you can add 1 tablespoon of honey and fruit juice (ie. lemon or orange juice) to improve the taste. This juice should be consumed first thing in the morning when fasting. 
In addition, you can also use aloe vera extra capsules, with a concentration of 200:1. You can take 1 capsule per day before lunch, or as recommended my your doctor. See the laxative fruits you can consume in addition to this supplement to help stimulate bowel movements.
11. Remove make-up
Aloe vera can be used to remove make-up as it contains no chemical substances, moisturizes the skin and relieves irritation caused by the substances present in make-up.
How to use: Put a little aloe gel on a cotton pad and rub it lightly over the areas of the face with make-up. Then wash your face with warm water and a mild soap.
12. Lighten the skin
Aloe vera contains aloin and aloesin, substances with anti-inflammatory and antioxidant action. It can reduce or prevent pigmentation, helping to lighten the skin naturally, which is why it is a good home remedy for dark spots or melasma. 
How to use: Cut the aloe leaf, remove the gel from the inside and apply the aloe gel to the area to be lightened using gauze or absorbent cotton, leaving it on for 20 minutes. Rinse off the skin with lukewarm water.
Indications for use
Aloe vera contains mucilaginous substances and quercetin, which act as emollients to renew damaged skin cells. It also contains polysaccharides and plant-based hormones that help to stimulate and hydrate the cells. 
Because aloe vera is rich in vitamin, vitamin B, vitamin C, vitamin E, calcium, magnesium, potassium, selenium, zinc and phosphate, it can be on the skin for healing. It it also effective in strengthening immunity. 
Aloe vera can be used to promote hair health and skin health. It may be indicated for the treatment of anemia, arthritis, headaches, muscular pain, wounds, flu, insomnia, athlete's foot, inflammatory problems, constipation and digestive issues. 
Possible side effects
Topical use of aloe vera and oral use is considered to be safe and not associated with side effects. However, excessive intake and doses can cause cramps, vomiting, diarrhea, hypothermia and weakness. 
Long-term use of aloe vera supplements can also lead to liver problems. 
Contraindications for use
Aloe vera is not suitable for people with allergies to aloe or any other plant in the Xanthorrhoeaceae family.
Aloe vera is contraindicated for pregnant or breastfeeding women, children under the age of 12, people with diarrhea, liver problems, intestinal obstructions or stenosis, atony (lack of normal muscle movement), appendicitis, Crohn's disease, ulcerative colitis, unexplained stomach pain or severe dehydration.
People with diabetes or who are taking medication or other medicinal plants should always consult a doctor before taking aloe vera. This is because aloe can alter the action of some medicines.