The secret to getting rid of dandruff is to maintain balanced levels of oil production in the scalp. You can wash your hair with anti-dandruff shampoo, or with shampoos that contain selenium sulfate, ciclopyrox olamine or ketoconazole. These can be used daily on on an as-needed basis. 
There other measures you can take into consideration, like avoiding washing your hair with very hot water, managing stress, and avoiding the use of hats. There are also some home remedies for dandruff you can try, like tea tree oil or castor oil, used as directed by a doctor or medicinal plant specialist.
Itching and flaking caused by dandruff can range from mild to intense. In any case, you should see a dermatologist for the most appropriate treatment.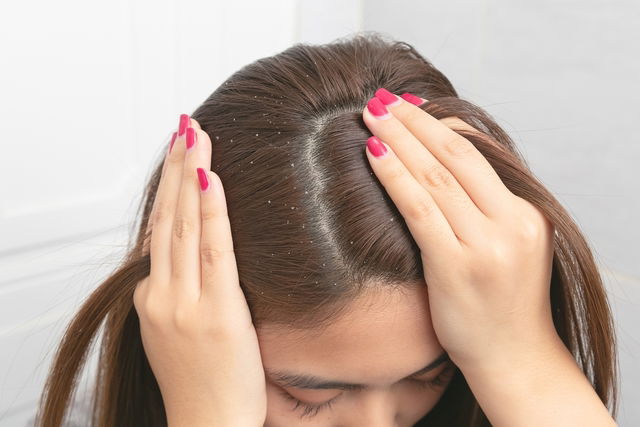 Ways to get rid of dandruff
You can treat dandruff by using the following methods: 
1. Anti-dandruff shampoo
Itching and flaking from dandruff almost always can be managed with anti-dandruff shampoo. For mild dandruff, you should first cleanse the scalp and hair with a neutral shampoo to remove accumulated oil and dead skin cells. 
If dandruff does not improve with neutral shampoo, or if you are experiencing moderate to heavy dandruff, you can use an medicated anti-dandruff shampoo. These can contain different substances: 
Zinc pyrithione: This substance contains antifungal substance and helps to remove and prevent the accumulation of oil on the scalp. It helps to maintain the scalp drier. 
Coal tar: It works by decreasing how quick the scalp cells die, which reduces dandruff build-up. 
Salicylic acid: This substance contains adstringent action and unblocks scalp skin pores while also controlling oil production. In some shampoos, salicylic acid may be combined with ketoconzole, as it improves the penetration of this antifungal.
Ketoconazole: It acts by killing fungus in the scalp that causes dandruff. It can be accessed with or without a prescription.  age matando os fungos causadores de caspa que vivem no couro cabeludo e pode ser vendido com ou sem receita médica;
Selenium sulfate: This contains antifungal and antibacterial action that helps to regenerate scalp cells. It also decreases dandruff build-up and treats fungus.
Ciclopyrox olamine: It has antifungal action that helps to cleanse the scalp and prevent dandruff. 
You can start to use these shamoos can be used for 1 to 3 times per week to treat dandruff. Once you notice an improvement, you can reduce use to once per week or even less for maintenance and prevention. 
You should always read the instructions on the shampoo bottle, as some require time on the scalp to work, while others need to be rinsed immediately. If a shampoo works at first, but then seems to lose its effectiveness, you can try swap to another type of anti-dandruff shampoo. 
2. Medications
Another way to get rid of dandruff is to use medications. Some topical solutions that can be applied directly to the scalp contain salicylic acid, antifungals and corticosteroids. These medications are usually prescribed by a dermatologist when dandruff causes inflammation and itching. 
The doctor may also recommend medications for off-label use, like spirinolactone. This medication reduces scalp oil production as a side-effect, which can help to reduce dandruff. 
3. Home remedies
Home remedies with antiseptic, antifungal and anti-inflammatory properties can help to get rid of dandruff. Tea trea oil, rosemary essential oil, eucalyptus essential oil and peppermint essential oil are great options. To use these, mix 1 drop of the essential oil of you choice in every 10 mL of your regular shampoo. 
You can also use coconut oil in your shampoo (again, 1 drop of oil for every 10 mL of your regular shampoo). It helps to hydrate the scalp and reduce inflammation that causes dandruff and itching. 
Rosewater tonic also contains astringent and anti-inflammatory properties that help to control dandruff. 
Natural shampoos made with herbs like rosemary, celery and eucalyptus can also be effective in controlling dandruff, due to its antiseptic and antifungal properties. 
4. Hair care 
Some other measures to help get rid of dandruff faster include: 
Avoid bathing with very hot water, as this stimulates oil production in the hair follicle 
Avoid washing your hair every day, as this also increases oil production (to compensate for what is removed with every wash) 
Avoid using conditioner 
Avoid eating fatty foods 
Drink at least 1.5 L of water every day 
Adequately manage stress
Avoid sleeping with wet or damp hair 
Do not scratch your scalp with your fingernails, as this can cause small wounds. Massage the scalp instead with gentle and circular movements 
Avoid using hats 
A healthy diet is also an important factor for preventing dandruff. You should incorporate fresh fruits, vegetables and foods rich in zinc and vitamin V to control scalp oiliness. Citric fruits, nuts and canned foods may also increase oil, and therefore should be reduced.