St. John's wort is a medicinal plant that contains antidepressant action, which helps to combat mild to moderate depression, as well as symptoms associated with anxiety and muscle tension. 
In addition, because it contains bioactive compounds like hyperforin, hypericin, flavonoids and tannins, St. John's wort also helps to complement the treatment of cuts, burns and skin wound. 
The scientific name for St. John's wort is Hypericum perforatum. This plant can be purchased in its natural form, as dried leaves and flowers, at natural health stores, pharmacies and some supermarkets.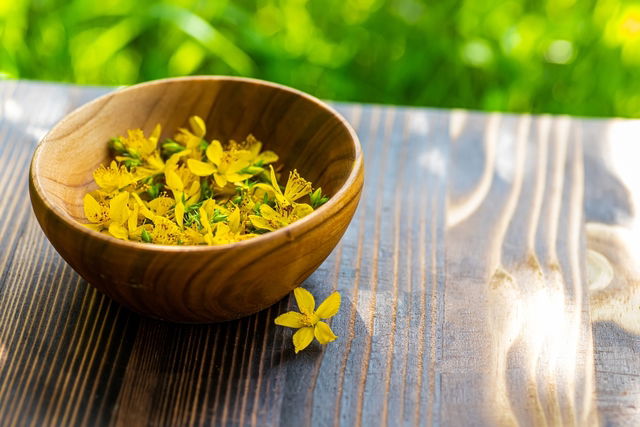 Health benefits
Because it contains antifungal, antidepressant, antioxidant and bacterial properties, St. John's wort can be used to help with the treatment of conditions like:
Depression
Anxiety 
Mild burns
Bruses
Closed wounds that are healing
Burning mouth syndrome
Muscular pain
Psoriasis
Rheumatoid arthritis 
St. John's wort can also be used to reduce symptoms of ADD, chronic fatigue syndrome, irritable bowel syndrome and PMS. It is also commonly used to improve hemorrhoids, migrains, genital herpes and fatigue. 
This plant also contains analgesic, antiviral, diuretic, anti-inflammatory and antispasmodic properties. 
How to use
St. John's wort can be used in a variety of forms, incliuding as tea, a tincture and capsules. 
1. St. John's wort tea
Ingredients:
1 teaspoon (2 to 3 g) of dried St. John's wort flowers and leaves 
250 ml of water.
How to prepare:
Boil the water in a pot or kettle. Then remove from heat and add the St. John's wort to the water. Cover and steep for 5 to 10 minutes. Then strain, wait for it to cool, and drink 2 to 3 cups per day, after meals. 
You can also use the tea to make compresses or dressings. Soak a piece of clean gauze or cotton ball in the tea and apply to the wound or to an area where you are feeling muscular pain. 
2. Capsules
The general recommended dose is 1 capsule, three times per day, taken after meals. You should take these capsules for the duration prescribed by your doctor or medicinal plant specialist. 
3. St. John's wort tincture
The recommended dose for St. John's wort tincture is 2 to 4 ml, diluted in 1 cup (100 mL) of water. The quantity used should be prescribed by a doctor or medicinal plant specialist. 
Possible side effects
St. John's wort is generally well-tolerated, however in some cases, it can cause symptoms like stomach pain, allergic reactions, fatigue, agitation, or increased skin sensitivity to UV rays. 
Contraindications for use
St. John's wort is not indicated for children under 12, people with an allergy or sensitivity to this plant, or people with severe depression. 
This plant should not be used by pregnant or breastfeeding women, nor by women on birth control pills, as St. John's wort can interfere with birth control efficacy.
People taking serotonin reuptake inhibitors, like sertraline, paroxetine or nefazodone, should also not consume St. John's wort. 
People taking medications like cyclosporin, tacrolimus, amprenavir, indinavir, irinotecan, warfarin, buspirone, triptans, benzodiazepines, methadone, amitriptyline, digoxin, finasteride, fexofenadine, finasteride or or simvastatin should speak to a doctor before taking St. John's wort.