Home remedies for hemorrhoids can be used to relieve symptoms and resolve external hemorrhoids much faster. The are often used to complement the medical treatment prescribed by the doctor. Some examples are sitz baths prepared with horse chestnuts and hamamelis ointments, while other methods, like increasing fiber intake and taking garlic, echinacea or psyllium supplements can also be beneficial. 
Garlic capsules and echinacea capsules can be good options for internal hemorrhoids, although these home remedies should not substitute treatment prescribed by the doctor, like analgesics or ointments. 
Remedies for external hemorrhoids
External hemorrhoids are characterized by the presence of small lumps in the anus that can be painful, itchy and very uncomfortable. You can treat external hemorrhoids naturally with the following methods:
1. Sitz bath with horse chestnut
Horse chestnut is a natural ingredient that is scientifically proven to be therapeutic in the treatment of external hemorrhoids. It contains properties that boost circulation, and is rich in escin, a type of saponin, which contains a strong anti-inflammatory effect that rapidly relieves pain and discomfort.
Ingredients
60 g of horse chestnut peels
2 liters of boiling water
How to prepare
Mix the ingredients and boil for another 12 minutes. Then wait for it to cool, strain and pour into a sitz basin. Undress and sit in the basin for 20 minutes. These home remedies should be repeated as needed for at least 5 days. 
Horse chestnuts can be ingested as pills or capsules, which can be taken at a dose of 300 mg per day.
2. Sitz bath with cypress 
Cypress contains soothing and antimicrobial properties that can help to manage pain and regress the hemorrhoid. 
Ingredients
1.5 liters of boiling water
8 drops of cypress essential oil 
How to prepare
Place the drops of oil in the hot water and stir. When the water cools, pour it into a sitz basin and soak the hemorrhoid for at least 20 minutes, to allow the solution to take effect. 
Another option is to take 2 to 3 drops of essential oil and mix them a vegetable oil, like sweet almond oil, to apply directly to the hemorrhoid. The essential oil should not be applied directly on the hemorrhoid as it can irritate the skin. 
3. Homemade hamamelis ointment
Hamamelis is another plant with excellent anti-inflammatory and soothing properties that help to relieve hemorrhoid symptoms. A great way to use hamamelis is to use a homemade ointment. 
Ingredients
60 ml of liquid paraffin 
4 tablespoons of hamamelis peels 
60 ml of glycerin 
How to prepare
Place the paraffin and hamamelis in a pot and boil for 5 minutes. Then strain and add the 30 ml of glycerin. Pour into a sealed recipient and store in the fridge. Use on a daily basis whenever necessary for about one month. 
4. Sitz bath with epsom salts 
Epsom salts can be used in the treatment of hemorrhoids, as they are great for reducing inflammation and are easily added to water. In addition to warm water, which stimulates normal intestinal functioning, this home remedy also has a potent anti-inflammatory effect that is released by the salts. 
Ingredients
2 to 3 tablespoons of Epsom salts
2 liters of boiling water 
How to prepare
Mix the salts with the water until they have dissolved. Then wait for it to cool and pour into a sitz basin. Soak the hemorrhoid for 15 to 20 minutes. You can repeat this 2 to 3 times per day. 
Home remedies for internal hemorrhoids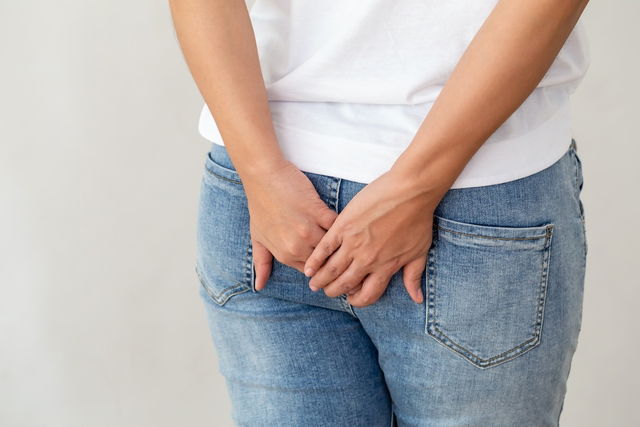 Internal hemorrhoids can be more difficult to treat, as there are minimal home remedies available. However, some supplements and foods  can help to improve symptoms, optimize blood flow and promote normal intestinal functioning. 
1. Garlic capsules
Taking garlic capsules on a daily basis can help to promote intestinal vascularization and facilitate blood flow, which can relieve pain and discomfort. These properties can also help to prevent new hemorrhoids.
The recommended dose of garlic capsules is 600 to 1200 mg per day, divided into 2 to 3 doses. Nonetheless, dosing should be recommended by a naturopath, doctor or registered dietitian.
In addition to taking capsules, increasing garlic consumption during meals is another natural option.  
2. High-fiber foods
Another great strategy for relieving pain from internal hemorrhoids is to ensure stools are soft. This can be achieved with a high fiber diet with plenty of water. 
Some foods that help to soften stools include kiwi, prunes, papaya and pumpkin seeds. You should aim to consume 25 g of fiber in women, and 38 g of fiber in men, as well as at least 8 cups per water. 
Another great way to ensure you are consuming enough fiber is to add 1 tablespoon of psyllium to all meals. This is a very soluble fiber that can be purchased at pharmacies and supermarkets.
3. Echinacea capsules
Very swollen and painful hemorrhoids can be treated with echinacea capsules. These contain anti-inflammatory, antibiotic and immunostimulating properties that help to relieve pain, treat and infections and strengthen the immune system. 
Check out other ointments and home remedies that can help to get rid of hemorrhoids.