Minoxidil is a substance that stimulates hair growth and is indicated for the treatment and prevention of androgenic hair loss. Minoxidil increases the diameter of blood vessels, which improve blood circulation in the scalp. It also helps to prolong the anagen phase of the hair, which is when hair is formed and grows.

In some cases, and if the doctor recommends it, a minoxidil solution can also be used to thicken and fill in gaps in the eyebrows or in a beard.
Minoxidil is available for sale under different commercial names, such as Aloxidil, Rogaine, Pant or Kirkland, It can also be compounded in a pharmacy. Before using minoxidil, you should speak to your doctor to ensure you understand the contraindications and side effects that may arise from use.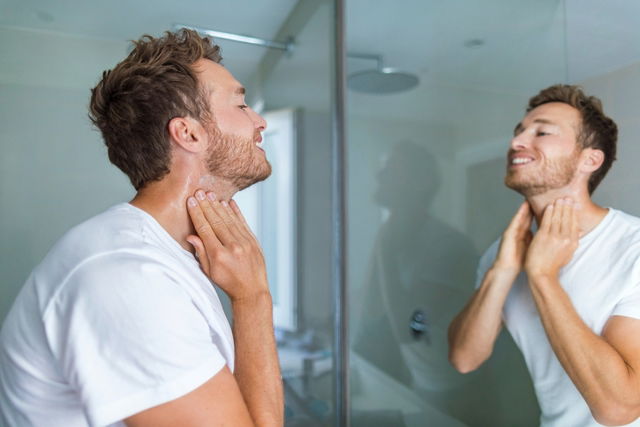 Common uses
Minoxidil is prescribed for the treatment and prevention of androgenic hair loss. In some cases, it may even be recommended by your doctor to thicken and fill in gaps in your beard or eyebrows. Learn more about what causes hair loss and what to do. 
How it works
Minoxidil's exact mechanism of action of minoxidil is still unknown. Initially, this substance was created to lower blood pressure in patients with hypertension, as minoxidil has a vasodilating action. Only later was it discovered that one of its side effects was notable hair growth. 
Once this was understood, minoxidil began to be used in scalp solutions. Its vasodilating action improves blood circulation, which promotes the absorption of nutrients in the bulb of the hair follicle.. It is also noted that this substance prolongs the anagen phase, which is the phase in the follicle cycle in which follicles are formed and grow.
How to use
Minoxidil should only be used under the direction of a doctor. Generally, depending on the area being treated, minoxidil should be used as follows:
1. Hair growth
To treat hair loss, minoxidil solutions can be applied directly to the skin of the dry scalp, in areas where the hair is fine. It can be massaged into the scalp twice a day.

Generally, the amount that is applied each time is about 1 mL. The duration of treatment can last for about 3 to 6 months, or as recommended by your family doctor or dermatologist.
2. Beard growth
Although minoxidil manufacturers do not recommend applying this product to areas other than the scalp, in some cases, your dermatologist may approve the application of this product to your beard.

To fill in any gaps within your beard, minoxidil can be applied in the same way as it is applied to the scalp. However,  the product should first be rubbed on the hands, and then applied to the regions of the beard to be treated. Wash your hands after application. 
After applying minoxidil, you should then apply a moisturizing product, such as coconut oil or almond oil, to avoid dryness and reduce the the odor associate with the substance. Because of its high alcohol content, there is a risk for the skin to become dryer. 
3. Eyebrow growth
Minoxidil manufacturers do not recommend the use of this product in areas other than the scalp. However, in some cases, your dermatologist may approve its application to the eyebrows.  

To thicken the eyebrows, apply the solution using a cotton swab. After applying the product, you can additionally apply a moisturizing oil on the eyebrow to prevent skin dryness. 

In all cases, after applying minoxidil, you should use a product that prevents the skin from drying out. You should also thoroughly wash your hands after applying, and avoid applying around the eye area. You should not apply more than 2 mL of the minoxidil solution per day.
Possible side effects
In some cases, minoxidil solution can cause side effects like a local allergic reaction, itching, dry skin, dandruff. It can also cause hair growth in other, unwanted parts of the body, such as the ears, forehead and upper lip.

In some cases, increased hair loss may occur, however this is usually temporary. It may be noted about 2 to 6 weeks after starting treatment, and improve after a few weeks. However, if the hair loss persists for more than 2 weeks, you should discontinue your minoxidil use and inform your doctor for further assessment. 
To prevent side effects, the doctor may recommend natural ways to stimulate hair growth before prescribing this medication.
Contraindications for use
Minoxidil should not be used by pregnant or breastfeeding women, nor by anyone who is allergic to minoxidil or any other component of the formula. The 5% minoxidil solution should only be used by women as directed by a doctor.

Minoxidil should not be applied if the skin or scalp is inflamed, irritated, or painful, nor in cases of burns or dermatitis.
Because it contains alcohol in its composition, minoxidil is not recommended for people undergoing treatment for alcoholism and are using disulfiram.