Maca root, also known as peruvian ginseng or by its scientific name lepidium meyenii, is a tuber that belongs in the same plant family as the parsnip, cabbage, and watercress. It contains medicinal properties that can naturally improve energy levels and libido.
Maca root is considered to be a super-food because it is rich in fiber and essential fatty acids. It is overall nutritious when consumed and can result in increased energy and vigor.
Maca root is relatively easy to find and can be purchased at natural health stores in pill or powder forms. Either form can be mixed with other vitamins or added to smoothies.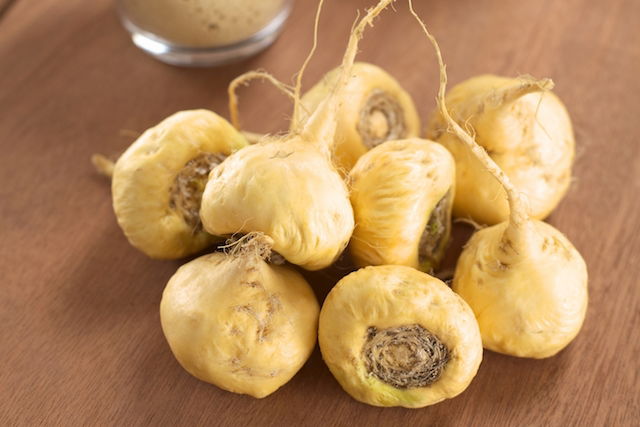 Health benefits
Maca root can be used for many things, but the scientifically-proven benefits include:
1. Increase in libido
Maca root contains stimulant, tonic and anti-depressant properties, and therefore it can be a strong aphrodisiac. It can be indicated to improve libido.
2. Decrease tiredness and fatigue
Maca root essential oils contains generous amounts of fatty acids, and therefore it is a great way to increase energy, stamina and mental alertness.
3. Improve concentration and decision-making
The fatty acids that are found in maca root essential oil can improve mental stamina, which will positively affect your concentration and decision-making.
4. Help to manage anxiety
Maca root can help to regulate hormone production and increase energy, and therefore it is great for managing anxiety and symptoms related to depression.
In addition, some studies show that maca root can help to reduce negative feelings, optimize hormone production, increase the frequency of erections, and reduce symptoms of menopause.
Maca root can also be used as a weight loss supplement. Although it does not increase metabolism or burn fat, it improves energy levels, which can encourage you to work-out more frequently and be more responsive to a diet indicated by your nutritionist.
How to take it
The daily recommended dose of maca root is 1000mg three times a day, taken with meals, for a maximum of 4 months.
Nonetheless, the dose can vary depending on the type of treatment or condition the person wishes to address. Therefore, it is always best to consult a nutritionist or naturopath before starting maca root supplementation.
Maca root can also be consumed as part of your meals or drinks, either in root form or powder form. You can add two to three teaspoons to one serving of food.
Energizing maca root and mango smoothie
A smoothie prepared with maca root and mango is a great nutritional source. It can help to reduce tiredness, fatigue and weakness, as well as improve concentration and decision-making.
Ingredients
2 teaspoons of maca root
2 mangos, chopped-up
2 teaspoons of flaxseed
2 teaspoons of coconut oil
Juice squeezed from 1 lemon
4 fresh mint leaves
How to prepare
Pour all the ingredients and some mineral water into a blender and mix until all ingredients are well-combined. If necessary, add more water to dilute the mixture. This recipe contains 2 servings.
Possible side effects
Maca root is usually well-tolerated, and therefore side-effects are not very well-known. Nonetheless, some people may have an unknown maca root allergy, and therefore small doses (as indicated by a doctor or nutritionist) should be taken when consuming it for the first time.
Who should not take it
As mentioned, maca is usually well-tolerated in the majority of people. It is commonly consumed in many regions of South America. However, its safety during pregnancy and breastfeeding are not very well-known and therefore, it should be avoided in these situations.
A scientifically-accepted consensus on the use of maca for hormone regulation has yet to be reached, and therefore maca should especially be avoided in children or estrogen-related cancers (e.g. uterine or breast cancer) without the supervision of a health care provider.