Fennel is a medicinal plant from the Apiaceae family that grows about 50cm in height. It is made up of feathery leave, white flowers and a dried fennel fruit with one a seed. It tastes sweet and has a strong aroma. 
This plant is scientifically known as Pimpinella anisum and is very used for the treatment of gastritis, abdominal bloating, indigestion, has and headache, as it contains analgesic, anti-inflammatory and anti-dyspeptic properties. 
Fennel is also used in cosmetic products and perfumes. It can be found in many forms like dried extract and oil, and is often sold at markets, natural health product stores and compound pharmacies. Many times, fennel is confused for star anise, however they are different plants with different properties.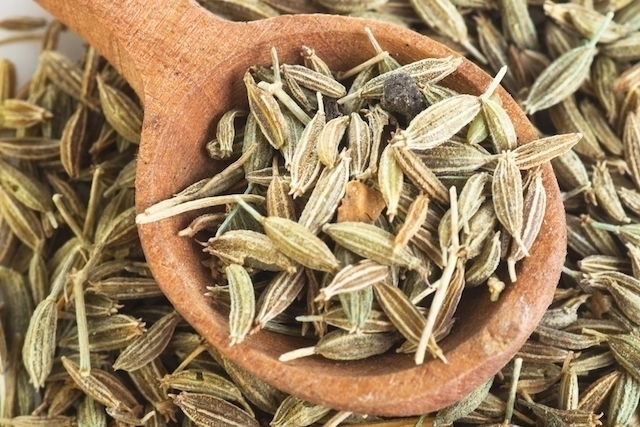 What It's Good For 
Fennel is a medicinal plant that is commonly used to treat conditions like: 
Stomach ache
Headache 
Indigestion
Abdominal bloating
Muscular spasms
Menstrual cramps
Inflammation in the mouth or throat
Cough, flu, cold, phlegm and runny nose 
This plant can reduce the effects of fermentation in the intestines that leads to the production of gas. Therefore, it can be used to relieve discomfort caused by increased intestinal gas. Fennel is also indicated in some cases to reduce blood sugar levels and even to decrease hot flashes that occur during menopause. 
In addition, studies show that fennel as antifungal, antiviral, antimicrobial, antioxidant, anticonvulsant and antispasmodic properties. It can also be used as an insect repellent, and it can be used to decrease multiplication of dengue-infected mosquitos, for example. 
How to prepare fennel 
Fennel is sold in different forms, like dried fruit extract or essential oil. It can be used as:  
1. Fennel tea
Fennel tea can help to improve symptoms of cold and flu, like coughing, runny nose and phlegm.
Ingredients
1 tablespoon of dried fennel 
1 cup of water
How to prepare
To make fennel tea, boil the water and pour into a cup, over the dried fennel. Cover the cup and allow the fennel to soak for 3 to 5 minutes. Then strain the infusion and drink. 
Fennel can also be used in dessert recipes, like in cakes or cookies. When used in capsule form, you should take it as indicated by a health professional who specializes in medicinal plants. 
2. Essential oil
Fennel essential oil is most commonly used in aromatherapy to regulate female hormones, reduce menstrual cramps and decrease symptoms of menopause, like hot flashes for example. 
This oil can also be used as a muscle relaxant and sedative when used for massages. Simply mix 2 drops of the essential oil with almond oil. To improve coughing and runny nose, you can place 3 drops of essential oil in a bowl of boiling water and inhale the vapor. 
As shown in some studies, fennel essential oil can stimulate epileptic attacks in people witha history of epilepsy. Therefore, it should be used with caution, and ideally under the supervision of a doctor or health professional or specializes in medicinal plants.  
Possible side effects 
Fennel generally does not cause any side effects, especially when used in appropriate quantities. Some more rare side effects that can occur are nausea, vomiting, and allergic reaction when consumed in excess. 
Who should not use it
Fennel is contraindicated for use during pregnancy or breastfeeding, and by children under the age of 12. In addition, women with a history of breast cancer should avoid using fennel, as it can alter the production of female hormones like estrogen, which can affect cancer treatment. 
This plant should also be avoided by people who take iron supplements, as fennel can interfere with the absorption of this nutrient.