Cinnamon, scientifically known as Cinnamomum, is an aromatic spice that is rich in flavonoids like eugenol, hesperidin, and linalool. It contains anti-inflammatory and antioxidant properties that help in the prevention of cardiovascular disease, cancer and diabetes. 
Due to its high quantities of cinnamaldehyde (a compound that boosts metabolism and improves concentration), cinnamon can also improve physical and mental capabilities, and can stimulate fat burnings to help with weight loss.
Cinnamon can be found in supermarkets and natural health product stores in powder form, sticks or flakes. It is most used to sweeten meals and desserts, and can also be used in teas.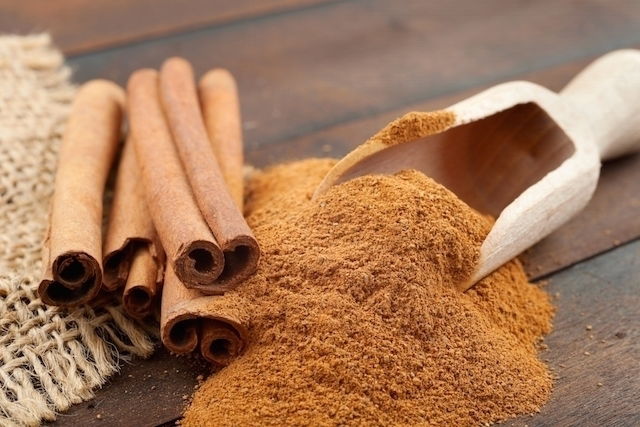 Health benefits
Regular consumption of cinnamon can be beneficial for many aspects of health, including: 
1. Control diabetes
Cinnamon posses antioxidant and anti-inflammatory properties that helps to protect pancreatic cells and improve the function of insulin. It helps to prevent insult resistance and diabetes.
2. Promote weight loss
Cinnamon contain cinnamaldehyde, a compound that boosts metabolism and promotes fat burning, making it a great addition to a weight loss diet. This spice can also be used to sweeten recipes, making it a great sugar substitute to reduce calories. 
3. Treat cavities and bad breath
Cinnamaldehyde and eugenol are compounds found in cinnamon that have with bactericide properties. These can help to treat oral problems, like cavities, gingivitis and bad breath. 
4. Improve mental health 
Cinnamon contains antioxidants that prevent damage caused by free radicals in central nervous system cells. This can improve memory and prevent conditions like dementia, Alzheimer's and Parkinson's. 
5. Prevent cardiovascular disease
The antioxidant compounds present in cinnamon help to prevent oxidation of fat cells, which can reduce levels of  "bad" cholesterol, or LDL, as well as triglycerides. This can help to prevent illnesses like atherosclerosis, infarct and heart failure. 
In addition, cinnamaldehyde and cinnamic acid, which are bioactive compounds with anti-inflammatory actions, can promote arterial health and relaxation, which can help to control blood pressure. 
6. Improve mood 
Cinnamon contains anti-inflammatory properties, which prevents inflammation of central nervous system cells. This can boost production of serotonin, a neurotransmitter that helps to regulate mood, happiness and overall wellbeing.
7. Improve digestion 
Cinnamon improves the action of enzymes that are responsible for the absorption of nutrients. This can improve overall digestion and relieve symptoms like abdominal bloating and excess gas. Check-out other natural ways you can relieve gas at home. 
8. Help to prevent cancer  
Because it contains cinnamaldehyde and eugenol, compounds with a strong antioxidant action, cinnamon can help get rid of high levels of free radicals and prevent cellular damage. This can help to prevent the development of some types of cancer. 
9. Improve sexual health
Cinnamon is considered to be an aphrodisiac, as it contains stimulating properties and improves blood circulation. This can increase sensitivity and boost wellness, libido and pleasure. 
10. Strengthen the immune system 
Because it contains camphor, eugenol and cinnamaldehyde, which are bioactive compounds with anti-inflammatory and antioxidant properties, cinnamon is a spice that can regulate the immune system. It can improve its abilities to fight infections like the cold or flu. 
Nutritional information
The following table contains the nutritional information for 16 g or 2 tablespoons of powdered cinnamon: 
| Components | Quantity in 16 g (2 tablespoons) of powdered cinnamon |
| --- | --- |
| Energy | 38.6 cal |
| Protein | 0.6 g |
| Fat | 0.2 g |
| Carbohydrates | 12.6 g |
| Fiber | 8.3 g |
| Vitamin A | 2.4 mcg |
| Carotenes | 17.6 mcg |
| Vitamin C | 0.6 mg |
| Calcium | 156 mg |
| Iron | 1.3 mg |
| Magnesium | 9.4 mg |
| Potassium | 66.2 mg |
| Phosphorus | 10 mg |
| Manganese | 2.7 mg |
It is important to remember that to achieve the health benefits of cinnamon, it must be used in combination with a balanced diet with regular physical exercise. 
How to use it
Cinnamon can be founds in powder form or as sticks or flakes. It can be used to season meat, fish, chicken or rice. This spice is also used to sweeten coffee, tee or desserts like oatmeal, cookies, fruit salads, or pancakes. 
It can also be used in its essential oil form, which can be purchased in natural health stores. You can dilute 8 drops of cinnamon oil in 45 ml (1.5 oz) of bioethanol and 55 ml (about 2 oz) of distilled water. You can place this mixture in a spray-bottle and spray it in different rooms of your house to improve physical and mental health and increase libido. 
How to make cinnamon tea
Another popular way of ingesting cinnamon is through taking a cinnamon tea, which besides being aromatic also brings all the health benefits of cinnamon.
Ingredients
1 cinnamon stick
1 cup of boiling water
Preparation method
Place one cinnamon stick in boiling water and let it soak for 10 minutes. Then remove the stick and drink up to three cups a day, before meals.  If the flavor is too strong, you can reduce the time you soak the cinnamon stick and add some drops of lemon or a thin slice of ginger, for instance.
Healthy recipes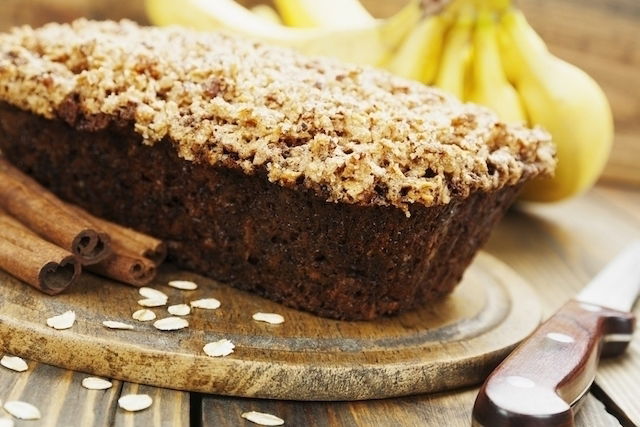 Some recipes that can be made with cinnamon are:
1. Cinnamon and banana bread
Ingredients
5 eggs
2 and ¼ cups of flour
1 cup of cane sugar
1 tablespoon of baking powder
¾ cup of milk
2 bananas, mashed up
1 cup of oil
½ cup of ground walnuts
Cinnamon for sprinkling
Preparation method
Beat the eggs, sugar, milk, and oil for about 5 minutes in a blender. Then, add the flour and baking powder, and beat the batter until the ingredients are well incorporated. Place the batter in a bowl and add the mashed bananas and the ground walnuts and mix well until the batter is smooth.
Pour the batter into a lined or greased baking pan and place in a pre-heated oven at 356º F (180º C) until the top is golden. Finally, sprinkle some cinnamon on top. 
2. Baked apple with cinnamon 
Ingredients
2 apples
2 cinnamon sticks
2 tablespoons of unrefined cane sugar
Preparation method
Preheat the oven to 390ºF (200º C). Wash the apples and remove the core without splitting them. Place the apples in an oven-safe dish or tray, and place a cinnamon stick in the middle. Sprinkle with sugar. Bake for 15 minutes or until the apples are soft.
3. Apple and cinnamon pancakes
Ingredients:
1 egg
1 tablespoon of almond flour 
 2 tablespoons of oat flour
½ an apple, grated
1 teaspoon of honey 
2 tablespoons of milk or milk alternative 
Cinnamon alternatives
Preparation method
In a bowl, mix all the ingredients with a spoon. Heat a non-stick frying pan on high and place some of the mixture. Cook each side for 2 to 3 minutes, and serve with yogurt, peanut butter, or fruits and nuts. 
Possible side-effects
Generally speaking, it is safe to consume up to 6 g of cinnamon per day. Side effects of excessive cinnamon consumption include allergies, skin irritation, stomach irritation, and hypoglycemia. It can also worsen already-present liver disease. 
Contraindication considerations
Cinnamon is contraindicated for people with allergies or skin reactions to cinnamon. It should also be avoided if you have gastric or intestinal ulcers. Additionally, cinnamon should not be consumed in pregnancy as it may stimulate uterine contractions.  
Consumption by babies and children is can be unsafe if there is a family history of cinnamon allergies, asthma or eczema.