Potassium permanganate is an antiseptic medication with antibacterial and antifungal action. It is indicated for the treatment of dermatitis, eczema, rashes or superficial wounds, from shingles for example. It works by drying out the skin to relieve itching and facilitate wound healing. 
Potassium permanganate baths can also be used to treat yeast infections, vulvovaginitis or vaginitis as prescribed by a doctor. 
Potassium permanganate can be purchased at pharmacies in pill form to dilute in water and add to baths or dressings, It should not be consumed orally, and is only available with a prescription from the doctor. It can cause side effects like irritation and skin burns.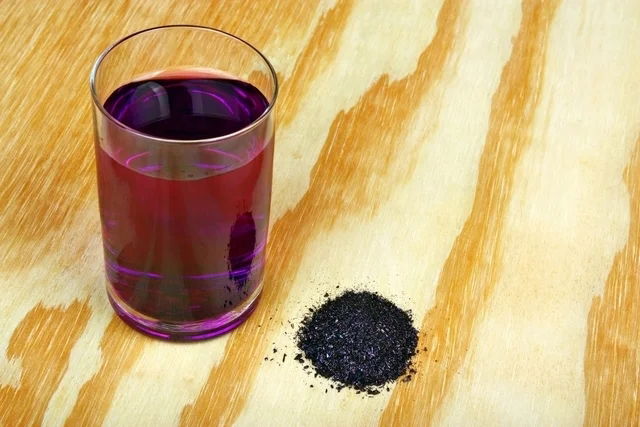 Common uses
Potassium permanganate is indicated for external use in baths to treat:
Dermatitis
Wounds or ulcers on the skin
Miliaria
Skin lesions with oozing
Additionally, potassium permanganate can be used on chickenpox blisters, helping to dry the skin and relieve itching.
This remedy can also be indicated to help treat candidiasis, vulvovaginitis or vaginitis, in the form of a sitz bath, according to medical advice.
The use of potassium permanganate should only be done with the advice of a dermatologist, pediatrician or gynecologist, after evaluation and diagnosis of the condition to be treated, and other treatments may also be indicated.
How to dilute into a solution
To dilute potassium permanganate, add one 100 mg tablet to approximately 1 to 4 liters of room temperature or warm water, depending on the condition to be treated and the doctor's instructions.
The tablet must be diluted before use to avoid irritation or stains on the skin, which can happen when handled in its pure form Therefore, it is also recommended that the tablet be removed from the envelope only at the time of use, without direct contact when handling.
The diluted potassium permanganate solution should be used immediately after preparation and any unused quantity discarded.
If the person is using the product for the first time, a test should be carried out to find out if they are allergic to this medicine, applying a little diluted potassium permanganate solution to a small area of the skin, such as the back of the hand, for example. example. If the skin becomes red or irritated, the use of potassium permanganate is not recommended.
How to use
Potassium permanganate should only be used topically and applied to the area of the skin affected. It should not be consumed orally. 
Potassium permanganate solution can be used to prepare baths or compresses as outlined below. 
1. Potassium permanganate baths
Potassium permanganate baths can be made with diluted solution and prepared in a bathtub or bowl. Affected skin should be soaked for 10 minutes, then rinsed off, or sprayed onto the skin, kept on for 10 minutes, and then rinsed off. You should avoid applying potassium permanganate to your face.
After use, be sure to pat your skin dry with a clean, soft towel to prevent further skin irritation. 
Potassium permanganate baths can be done every day until wounds heals. 
2. Potassium permanganate sitz baths
To perform a potassium permanganate sitz bath, pour the diluted solution into a clean and dry bowl, and soak your genitals in the bowel for a few minutes. You can also use a bidet or bath tub. 
A potassium permanganate sitz bath should only be done as directed by a doctor, as this medication can alter vaginal pH and lead to imbalances of natural vaginal flora. This can lead to an increased risk for further fungal or bacterial infections. 
3. Potassium permanganate dressings 
Another way to use potassium permanganate is by adding them to dressings. To prepare a dressing, soak a piece of gauze or a clean cloth into the diluted potassium permanganate solution and apply to the affected skin for 10 minutes. Then remove and rinse the skin.
Treatment considerations
It is important not to handle potassium permanganate with your bare hands. You should remove from the packaging and drop it directly into the water. The pills are corrosive and direct skin contact can cause irritation, redness, pain, severe burns and dark rashes  in the area. When properly diluted, potassium permanganate is safe and does not cause skin damage. 
Avoid contact with the eyes, as the pills or concentrated solution can cause severe irritation, redness and blurred vision. 
These pills should be swallowed, however in cases of swallowing, you should not induce vomiting. Drink large quantities of water and proceed to the emergency room immediately. 
Possible side effects
The most common side effects of potassium permanganate use include irritation, burns, pain, redness, itching, and skin rashes. These are more likely to occur if the diluted solution is used for more than 10 minutes. 
Potassium permanganate is solely for external use due to its corrosive effects. Accidental ingestion of the pill or diluted solution can cause digestive tract irritation, vomiting, nausea, abdominal pain and diarrhea. It can also alter mouth color. You should seek medical attention urgently or proceed to an emergency room. 
You should see a doctor if your eyes come in contact with the diluted solution or pills, as symptoms can include severe eye irritation, redness and blurry vision. 
Contraindications for use
Potassium permanganate should not be used by pregnant or breastfeeding women, or by those with an allergy to potassium permanganate or any components in its formula. 
You should avoid applying potassium permanganate to areas like the face, especially close to the eyes. You should not hold these pills with your hands to prevent irritation, redness, pain or burn. 
Potassium permanganate should not be ingested orally and is for external use only.