Night sweats can occur for many reasons that are unrelated to disease, however some cases of persistent night sweats can be associated with an illness. It is important to monitor for certain situations that it occurs with and for other symptoms like fever, chills or weight loss. Night sweats can simply emerge with increased room or body temperature, or with hormonal or metabolic changes, infections, infection, neurological disease or even cancer. 
Hyperhidrosis is another possibility - this condition is characterized by excessive production of sweat in the sweat glands, and can affect the entire body or just the hands, armpits, neck or legs. This condition, however, is associated with sweating at any time of the day. 
Because there are so many causes for night sweats, it is best to consult a doctor about how to manage it. You should especially seek medical advice if the night sweats are persistent or intense, so that a cause can be investigated.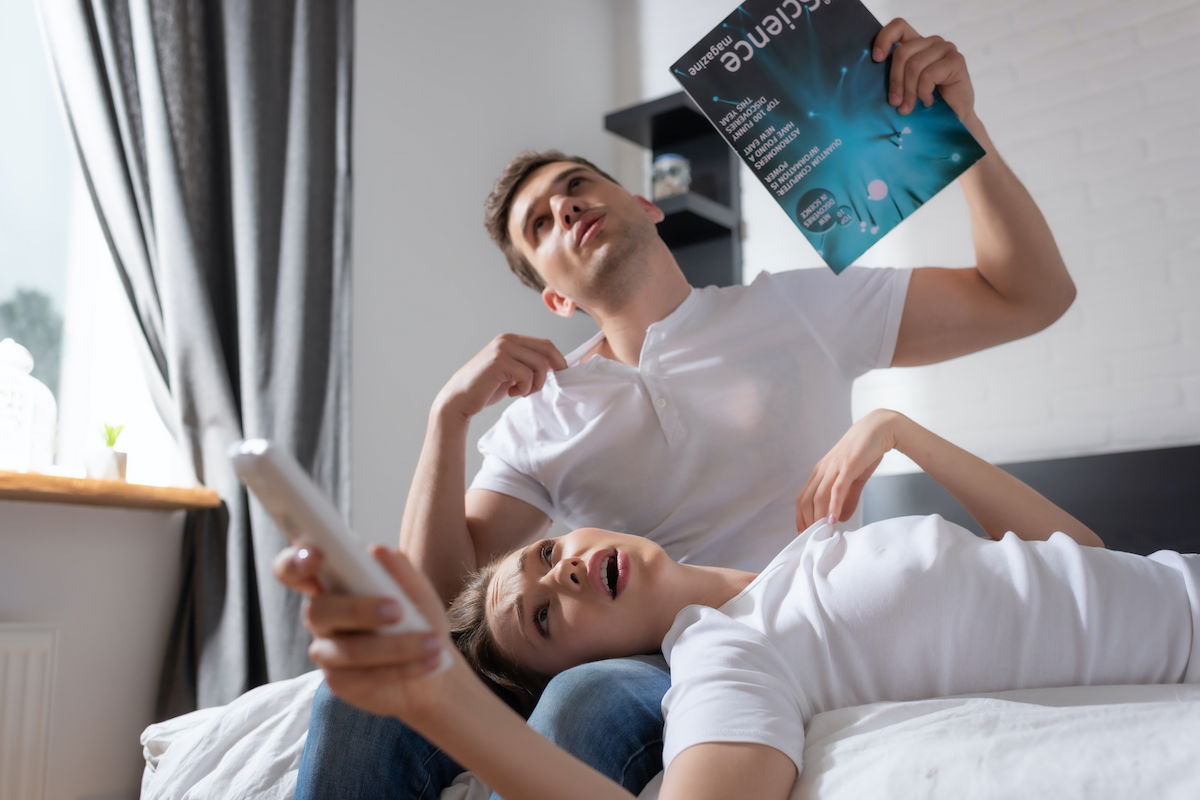 Some of the main causes of night sweats are: 
1. Stress or anxiety 
Stress or anxiety are conditions associated with intense worry or fear about day-to-day situations. They are caused by exaggerated activation of the nervous system, which releases adrenaline into the bloodstream. When this occurs at night, it is common to experience night sweats, as well as other symptoms like a rapid heart rate and a heavy feeling of doom. 
What to do: It is important to identify what is triggering the stress or anxiety. Psychological or psychiatric treatment is recommended to help you cope with any overwhelming situations. The doctor may recommend additional treatment with medication. Therapeutic strategies for managing stress or anxiety include physical activity, deep breathing exercises, or a soothing tea before going to bed. Check out herbs for anxiety that you can use to make tea to achieve a better night's sleep.
2. PMS or menopause 
Fluctuations of estrogen and progesterone levels can occur during PMS or menopause. These changes in hormone levels can increase body temperature and cause hot flashes and sweating, which can be felt at night. This is a benign symptom and usually improves with time. 
Interestingly, men can experience similar symptoms. 20% of men over the age of 50 can present with andropause, also known as "male menopause". This condition is associated with drops in testosterone levels and can cause symptoms like night sweats, increased body temperature, irritability, insomnia and decreased sexual drive. Men with prostate tumors are typically prescribed medications to decrease testosterone levels, which can also lead to these symptoms. 
What to do: If the night sweats are frequent or very intense, women should should speak with a gynecologist or endocrinologist to further investigate and initiate treatment. Hormonal replacement may be an option in some cases. 
Men with night sweats should see a urologist to rule out hormonal changes. Hormonal replacement may be prescribed, although this treatment is not advised for men with prostate cancer. 
3. Diabetes
Some diabetics who are insulin-dependent may experience episodes of low blood sugar levels at night or early in the morning. Many people who have low blood sugar may initially notice sweating as their first symptoms. 
Sweating occurs with hypoglycemia as the body's way to compensate for low sugar levels. It can also cause pallor, dizziness, palpitations and nausea. 
What to do: Some ways to prevent drops in blood sugar at night type include never skipping dinner and avoiding consumption of alcohol at night. Another important measure is to check blood sugar levels before going to bed - low levels can be recovered with a light, healthy snack. You should speak to your doctor about adjusting insulin doses or other diabetic medications if night sweats are a frequent occurrence. Read more about common diabetes medications that are used to manage blood sugar levels.
4. Sleep apnea
Sleep apnea can cause a drop in blood oxygen levels at night, which activates the nervous system. This can lead to night sweats, as well as other symptoms over time like increased blood pressure, cardiac arrhythmias and cardiovascular disease. 
Sleep apnea is a condition in which respiration stops completely for a few moments while sleeping, or in which respiration is very superficial throughout the night. It is associated with snoring and unrestful sleep, as well as drowsiness during the day, difficulty concentrating, headaches and irritability. 
What to do: Sleep apnea should be treated by a sleep specialist, who may recommend a CPAP machine or even surgery. 
5. Warm environments
When body temperature starts to rise, the body starts to sweat in an attempt to cool down the body and prevent overheating. Hot rooms or climates cna increase sweat production, which can occur at any time of the day but also emerge just at night. 
What to do: You should try to cool off by removing clothing or taking a shower before bed. If possible, turn on a fan or the air conditioner for a few minutes before falling asleep. 
6. Consuming thermogenic food
Consuming thermogenic food like pepper, ginger, alcohol or caffeine stimulates the part of the brain that regulates body temperature and stimulates metabolism. They cause the body to produce more heat, which increases sweat production that can be felt at bedtime. 
What to do: Avoid eating thermogenic foods before bed. Opt to eat them during the day instead to reduce sweat production at night. 
7. Hyperthyroidism
Hyperthyroidism is a condition that occurs due to dysfunction of the thyroid gland. The thyroid gland produces excessive amounts of thyroxine, which increases metabolism in the body. This can lead to excessive sweating, which is commonly felt at night. See what other symptoms can emerge with thyroid problems.
What to do: You should see a doctor for bloodwork to check thyroid levels. If hyperthyroidism is confirmed, treatment with medications or even surgery may be indicated. 
8. Infections
Some infections, whether mild or chronic, can cause sweating that is especially felt at night. Some of the most common infections include: 
Tuberculosis
HIV
Histoplasmosis
Coccidioidomycosis
Endocarditis
Pulmonary abscess
In addition to night sweats, these infections can cause symptoms like fever, weight loss, weakness, inflamed lymph nodes throughout the body or chills. 
What to do: You should seek urgent medical attention if you suspect you have an infection that is causing night sweats. Treatment may involve antibiotics, antifungals and antiretrovirals. 
9. Medication use
Some medications, like antipyretics (e.g. acetaminophen), antihypertensives and antipsychotics, may cause night sweats as a side-effect. 
What to do: You should not discontinue use of the medication without consulting your doctor first. Report any side effects to your doctor, as a dose change or alternative medication may be warranted.
10. Cancer
Some types of cancer, like lymphoma or leukemia, can frequently produce night sweats. These cancers are also associated with weight loss, swollen lymph nodes throughout the body, bleeding and decreased immunity. 
Increased sweating can also occur with neuroendocrine tumors, like pheochromocytoma or carcinoid tumors, which stimulate the release of hormones that activate a neurological response. These tumors can also cause symptoms like episodes of palpitations, sweating, reddened skin on the face and high blood pressure.  
What to do: You should consult an oncologist or endocrinologist, who may advise treatment like surgery, chemotherapy or radiation therapy. Treatment wholly depends on the type and stage of cancer present. 
When to worry 
Night sweats are generally not a symptoms of concern, but in some cases, it can occur with conditions that require additional treatment. You should seek medical attention if you experience any of the following: 
Frequent or intense night sweats
Interrupted breathing or feeling of suffocation when sleeping
Fever or chills
Coughing
Weight loss for no obvious reason
Night sweats may be a sign of disease progression in people with a history of lymphoma or HIV. If you have tested positive for these conditions, you should report night sweats to your doctor so that this symptom can be monitored and managed.