Loratadine is an antihistamine that is prescribed to reduce allergy symptoms or allergic rhinitis. It can relieve symptoms like itchy nose, sneezing, runny nose, increased tear production and red skin. 
This medication acts by reducing the effects of histamine, a substance that is associated with immune system responses to an allergen. Some side effects from using loratadine include fatigue, stomach ache, nausea, and dry mouth, which is why it should be taken as prescribed by a doctor. 
Loratadine can be purchased at the pharmacy in syrup or pill form and is available over-the-counter.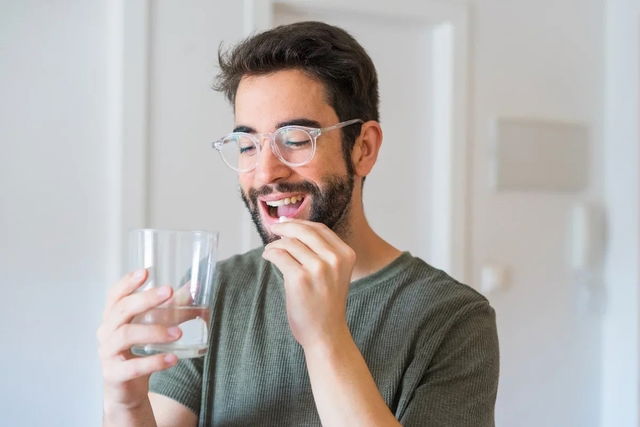 What it's for
Loratadine can be used to relieve symptoms from health conditions like: 
Allergies
Allergic rhinitis
Hives
Cold and flu 
Loratadine reduces the effects of histamine in the body, and relieve symptoms like itchy nose, runny nose, sneezing, itchy eyes, increased tear production, redness and itchy skin. 
How to take it
Loratadine is taken orally, before or after a meal, at the time indicated by your doctor. If you forget to take a dose at the right time, be sure to take it as soon as you remember and than adjust the remaining doses accordingly. Do not double a dose to make up for a forgotten one. 
Taking loratadine varies depending on its form. Recommended doses include: 
1. Syrup 1 mg/mL
Loratadine syrup is sold in 100 mL bottles. It should be taken using the dosing syringe in the package. Dosing depends on the patient's age: 
Adults and children over 12 years old:: 10 mL of syrup, which is equal to 10 mg, once per day. Do not take more than 10 mL in 24 hours. 
Children 2 to 12 years old (under 30 kg of weight): 5 mL of syrup, which is equal to 5 mg, once per day. Do not administer more than 5 mL in 24 hours. 
Children over 30 kg: 10 mL, which is equal to 10 mg, once per day. Do not take more than 10 mL in 24 hours. 
It is important to follow medical instructions with regards to treatment duration, as it is generally used for a short term period until symptoms disappear. 
2. Oral pills 10 mg
Loratadine pills can be purchased in packs of 6 to 20 pills, and should be taken with a cup of water, before or after meals. To optimize its effects, avoid chewing or cutting this pill.
Adults and children over 12 years old or over 30 kg: One 10 mg pill per day. 
Loratadine pills should be used by children under 12 years of age, as syrup is recommended instead. 
Possible side effects
The most common side effects that can occur during loratadine treatment include headache, fatigue, stomach ache, nausea, dry mouth, agitation and drowsiness. In rare cases, some patients may report hair loss, severe allergic reactions, liver problems, increased heart rate, palpitations and dizziness. 
In addition, loratadine can cause allergic reactions which may present with difficulty breathing, the sensation of a closing mouth, swelling in the mouth, tongue or face, or gives. In these cases, you should discontinue use and seek urgent medical attention. 
You should proceed to a hospital if your take more than the recommended dose and you experience overdose symptoms like fast or irregular heart rate, intense headaches and dizziness that leads to fainting. 
Contraindications for use
Loratadine should not be used by children under 2, pregnant women, breastfeeding women or people with a history of asthma, kidney failure or liver failure.
This medication should not be taken by people allergic to loratadine. 
What is the difference between loratadine and desloratadine? 
Loratadine or desloratadine are both allergy medications in the antihistamine class. This means that they impede the action of histamine, which is the substance in the body that causes allergy symptoms. 
However, they do have some differences. Desloratadine is created for loratadine, and is has a much quicker action time and stays in the body for longer. Its structure is also less capable of crossing the blood-brain barrier, which results in less drowsiness.