Carlos Bruce
Personal Trainer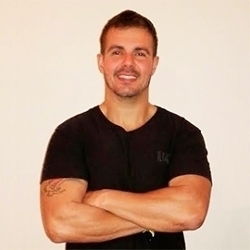 Carlos Antonio Bobeda Bruce graduated from the Federal University of Rio de Janeiro (UFRJ) in 2012, with a Physical Education Degree. He is a registered member of the Regional Council of Physical Education of Rio de Janeiro (CREF-RJ) with member #038849.
Carlos Bruce is also a personal trainer with a Masters in Strength Training and Physical Activity from the Estácio Sá University, Rio de Janeiro, Brazil, and University of Porto, Portugal. Carlos Bruce also has a phD in Physical activity and Health from the University of Porto.
Carlos Bruce specializes in weight loss, muscle mass gain and in the high performance of athletes. He is a coordinator in the Bodybuilding and Personal Trainer sector of VR Fitness Centers in Porto, Portugal.