Carlos Bruce
Personal Trainer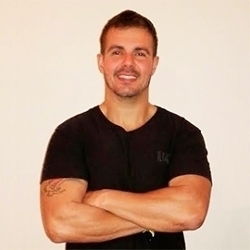 Carlos Antonio Bobeda Bruce graduated in Physical Education by the Federal University of Rio de Janeiro (UFRJ) in 2012, and member no.038849 of the Regional Council of Physical Education of Rio de Janeiro (CREF-RJ).
Carlos Bruce is also a personal trainer with a post graduation in strength training and physical activity by the Estácio Sá University, Rio de Janeiro, Brazil, and University of Porto, Portugal. Carlos bruce has also a Phd in Physical activity and health by the University of Porto.
Carlos Bruce is a specialist in the area of weight loss, gain of muscle mass and high performance of athletes, being the coordinator of the Bodybuilding and Personal Trainer sector of VR Fitness Centers in Porto, Portugal.